A couple of spots for those craving sun and some free time in their skin. These popular spots are located in Eastern Washington, close to Walla Walla, the Tri-Cities area and Yakima.
This beach has had a fairly active nude use, especially in the past year. It is a more centrally located site which helps a bunch for those of us living over here in a more reasonable Washington climate! As always, use proper Naturist ideals and pack out all your trash plus a little if it is there! It is possible according to some rumors that there may be a permanent composting toilet installed this year! This area is generally used by small groups who wish time to themselves but larger groups (see SLUGS under Washington travel clubs) do from time to time have outings here!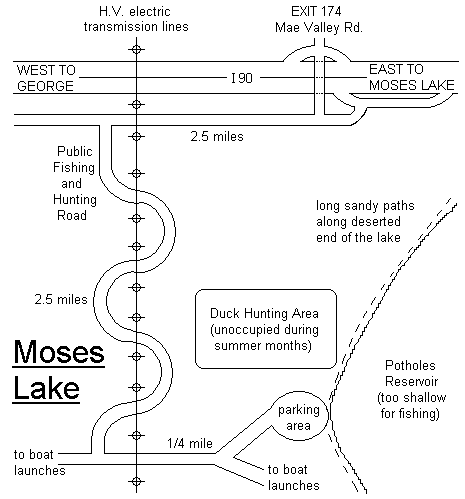 Moses Lake Potholes (from the Inner Circle website)
This near Moses Lake beach has had fairly active nude use over the years. This is another area where if you want you can find a very secluded spot for just yourself or you may meet some of the travel groups here for an outing! The area is frequented much by people from the SE corner of Washington so if you live in that area, you could very easily meet your next door neighbor here! This map is one which we first used to find a place for ourselves out here! The area up at the "deserted end of the lake"!