Natural springs

Baker:



Baker Hot Springs in 2002

This 104-degree pool on the edge of Mount Baker is easily accessible and popular despite often being a bit murky. Mineral waters bubble up from the ground into the pool, which varies from 4 to 10 feet wide and is about 1 1/2 feet deep. For those who soak nude, discretion is advised because the Forest Service sometimes fields complaints. From Mount Vernon, head east on State Route 20, take a left on Baker Lake Road and drive north to the lake. Across from Baker Lake Resort, go left on FR 1144 and drive 3.2 miles to a turnout. Follow a path uphill about 1/3 of a mile.

UPDATE ON BAKER HOT SPRINGS It has been some time since I was in the Baker Springs area but Baker Lake suffered extensive trail damage from last years winter storms and I am unsure of whether the springs are still accessible.


Goldmyer:


Goldmyer Hot Springs

On privately owned land surrounded by the Mount Baker-Snoqualmie National Forest, this beautiful spring flows from a cave in a cliff along a crash-ing, roaring creek way up the Middle Fork Snoqualmie River Road outside North Bend. It is operated and strictly controlled by the nonprofit group Northwest Wilderness Programs. The cave entrance is dammed to create a 110-degree pool, and two rock pools below are about 102 degrees. It is best to make a reservation. Fee is $10 per day; (206) 789-5631.

UPDATE ON GOLDMYER HOT SPRINGS The forest service road that services Goldmyer Hot Springs will be decommision later this year and you can no longer drive almost to the springs and instead will have to make a five mile hike in. Best to plan your trip there soon.


Kennedy: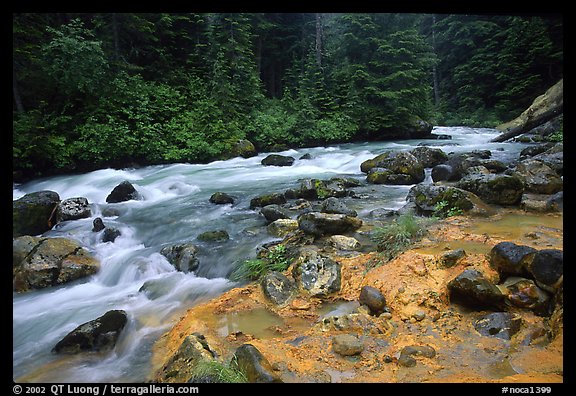 The view of Kennedy Creek near the former springs

A favorite soaking spot for hikers on the flank of Glacier Peak, a 4-by-5-foot plank box surrounds the springs, which bubble up from the ground and average just 92 degrees. The water is yellowish from iron oxide, but the springs are popular among day-hikers and those traveling the nearby Pacific Crest Trail. The hike in is about 5 1/2 miles, with an elevation gain of 1,100 feet. From Darrington, head south on Mountain Loop Highway about 10 miles, turn left onto dusty White Chuck Road (FR 23). Follow that 11 miles to the parking lot. Follow the White Chuck Trail (FR 643) to a Forest Service shelter. A side-trail passes campsites before reaching the springs.

UPDATE ON KENNEDY HOT SPRINGS It's gone! In fact, most of the trailwork in the North Cascades is gone from the winter storms of 2003.

In October 2003, when frost-nipped backpackers usually linger to soak beneath yellow alder leaves, a record-smashing rainstorm lasting nearly a week drenched nearby Darrington with 6 inches of rain in 24 hours. The storm unleashed a slough of mud, rocks, and timber that crashed down the overflowing White Chuck River and Kennedy Creek, burying the hot springs.


Olympic:


One of seven pools at Olympic Hot Springs

These springs bubble up into seven small, 98- to 105-degree pools, set in scenic rock outcroppings and forest near the Elwha River in Olympic National Park. A permit is required for camping and is available at park headquarters in Port Angeles. From Port Angeles, head west about eight miles on Highway 101, and take a right on upper Elwha River Road. Follow that about 10 miles to the road end. Walk the old road about 2.2 miles to Boulder Creek Campground. A short trail leads to a bridge across Boulder Creek and heads downstream to the pools, some tucked away and hard to find. On busy weekends, it is best to wear a swimsuit.

Scenic:

Scenic before destruction in 2002


Scenic as it is today

Scenic it is, on a mountainside overlooking the Tye River Valley. There were four wood-framed and plastic-lined tubs of varying temperatures, from 98 to 114 degrees. Scenic is privately owned, free and used to be very popular. In 2002, armed with complaints of car vandalism King County sheriffs tore down most of the deckwork and three of the four hot, citing the place as a public nuisance. Scenic is undergoing an unceratin future with the pending sale to a Canadian hot springs developer (see my udate post about Scenic here

Wind River:


German tourists Patrick Wachsmuth and Tina Weber enjoy one of the small, natural pools at Wind River Hot Springs. Photo by Paul Joseph Brown / P-I

These scenic but tough-to-reach springs bubble up among the boulders at the edge of the Wind River just north of the Columbia River Gorge. There are two main pools: one large enough for about six people and which is about 105 degrees; the other will hold two people and is about 103 degrees. Both pools are shallow and become submerged when the river is running high. The parking area is privately owned and there is a fee of $2 per car and an additional $3 per person (free for Native Americans). Visitors' attire is about evenly split between bathing suits and birthday suits. Follow SR 14 in the Gorge about five miles east of Stevenson, then head north on Berge Road. Shortly thereafter go left on Indian Cabin Road, which turns to gravel and quickly reaches the river and parking area. From there the route -- not really a trail -- follows a bluff dotted with poison oak for several hundred yards. Before a slide, drop to the river and clamber about a half-mile upstream on rocks and boulders. Caution: It is slippery when wet and not advisable for children or the infirm.

Developed springs

Carson: This is the last of the old-time hot springs resorts in Washington. Visiting the hotel (circa 1901), bathhouse and cabins (1923) is like stepping back into the 1930s. Bathhouse visitors are ushered into separate male and female soaking rooms, each lined with several old, claw-foot tubs. The $10 hot mineral bath includes a 20-minute soak followed by a warm body wrap (drinking a glass of springs water is recommended) and shower. In addition to the cabins, there is a restaurant and adjacent 18-hole golf course. The resort, (800) 607-3678, is just north of the Columbia River Gorge. Follow SR 14 east to the Carson turnoff, head north into town and take a right on Hot Springs Avenue.

Doe Bay: The springs at this small resort on a scenic Orcas Island cove are piped from the beach into two tubs on a deck above and are about 110 degrees. A third is used as a "cold plunge" tub and there is also a sauna. The resort is a rustic collection of cabins and campsites. You can drop in and soak for a $6 fee, and the tubs are "clothing-optional." Call (360) 376-2291. Take the San Juan ferry from Anacortes to Orcas Island. From the ferry landing, follow signs to East Sound, Olga and then Doe Bay.

Sol Duc: This resort on the Olympic Peninsula was built in 1912 and was renovated a few years ago. It now offers full accommo-dations, a restaurant, swimming pool, three tiled soaking pools and four indoor hot tubs that range from 98 to 106 degrees. It is a great spot for families with kids. Day use is $6.25, swimsuits required. For reservations call (360) 327-3583. From Port Angeles, head west on U.S. 101 past Lake Crescent, then go left on Soleduck River Road for about 12 miles.